Description
These sticks are a special order item, if the item says backorder we are able to get stock within 2-3 weeks and the order will be placed as soon as you place your order.
Lighter (5 grams), quicker (10% faster) and stronger (20% blade, 5% shaft) than before.

The Bauer Vapor HyperLite Stick raises the bar once again for featherlight low kick sticks in terms of durability, quick release and playability. Even at 385 grams, Bauer was able to improve blade toughness by 20% and shaft toughness by 5%, all while speeding up the shot release by another 10% too. Simply put, this is the best Vapor stick ever and it's not even close.

Internally, the HyperLite stick debuts a drastically re-engineered blade core called HyperCore. Bauer fused two carbon fiber bridges into the stiff foam core for the 20% increased toughness, but the ripple effects are just as impressive. HyperCore is even lighter than before, which provides players with a better balance point. The shot release speed increases because of the added stiffness plus it even extends the new-blade-feel longer too.

While the shaft upgrades might not sound as exciting as the HyperCore blade, they still do a lot for the player. The HyperLite uses a new Optimized Carbon Layup, along with their Asymmetrical TeXtreme Carbon and DuraFlex Resin System that again has a range of improvements. The 5% improved toughness is always welcomed on an expensive stick like this, but it even makes the shaft 10% easier to flex and makes it 10% quicker releasing for even better performance and playability.

OVERVIEW
Level of Play
Elite
Flex Profile
Low Kick
Weight
385 grams (85 flex)
Heritage
Vapor FlyLite / 1X LITE / 1X / APX2 / APX
Model Number
1059167
Available Flexes
30, 40, 50, 55, 65, 70, 77, 87, 102

Specifications

KEY TECHNOLOGIES
HyperCore Blade
The new fused carbon bridges reduce weight and balance, improves toughness by 20%, extends the new-blade-feel longer and enhances the shot release rate.

XE Taper
Elliptical taper shape creates a quicker, more accurate shot release while simultaneously reducing weight too. 

Optimized TeXtreme Carbon Fiber 
With their most advanced material, they further improve the impact durability by reinforcing key areas targeted during intense R&D.

SHAFT
Construction
MonoComp One-Piece
ACL Technology
Optimized Carbon Layup
DuraFlex Resin System
Materials
Asymmetrical TeXtreme Carbon Fiber
Grip Finish
Tacky Grip
Shaft Dimensions
Round Corners, Concave Sidewalls
Stick Lengths
60″ (102, 87, 77, 70 flex)
57″ (65, 55 flex)
54″ (50 flex)
52″ (40 flex)
50″ (30 flex)

FLEX PROFILE
Kick Point
Low Kick
Shot Profile
Quickest Shot Release
Shaft Taper
XE Elliptical Taper

BLADE
Construction
HyperCore Blade Core
Materials
TeXtreme Carbon Fiber
Face Texture
Standard
Available Curves
P28, P88, P92, P92M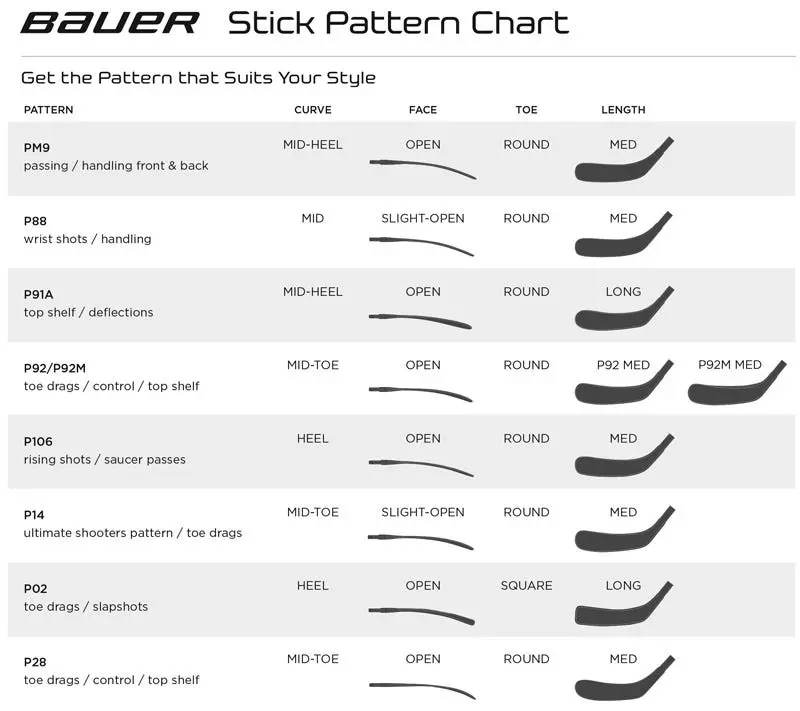 Sizing Chart
GENERAL SIZING RECOMMENDATION
We recommend choosing the flex rating that puts your specific height and weight at the middlemost point in both categories. A common rule of thumb is to select a flex rating by dividing your body weight in two and subtracting another 10-15 flex points. See the articles below for more detailed information on sizing and selecting hockey sticks.
SENIOR – BAUER STICK SIZING CHART:

Size
Flex
Stick Length
Player Height
Player Weight
SR
102
60″
5'5″ – 6'2″
170 – 210 lbs+
SR
87
60″
5'5″ – 6'2″
150 – 190 lbs
SR
77
60″
5'5″ – 6'2″
130 – 170 lbs
SR
70
60″
5'5″ – 6'2″
110 – 150 lbs
INTERMEDIATE – BAUER STICK SIZING CHART:

Size
Flex
Stick Length
Player Height
Player Weight
INT
65
57″
5'2″ – 5'10"
105 – 145 lbs
INT
55
57″
5'2″ – 5'10"
90 – 130 lbs
JUNIOR – BAUER STICK SIZING CHART:

Size
Flex
Stick Length
Player Height
Player Weight
JR
50
54″
4'8″ – 5'4″
80 – 120 lbs
JR
40
52″
4'7″ – 5'3″
60 – 100 lbs
JR
30
50″
4'6″ – 5'2″
40 – 80 lbs
(Note: Stick length is measured from the heel's point of contact with the playing surface to the top of the shaft.)